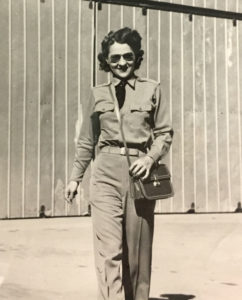 Pinky Brier, founder of the Joe and Pinky Brier Foundation, was a huge force contained in a small body. Her guiding mantra, given to her as a girl by her sister, renowned psychic Jeane Dixon, was "If you believe it, you can do it."
Pinky was a pioneer pilot when less than one in a thousand was a woman. She learned to fly in 1934 at age 25, and became the first female flight instructor in 1938. She retired her wings at age 80 with an estimated 100,000 hours of flight time.
During World War II, she taught American fighter pilots aerobatics to help them survive dogfights. She flew coast to coast and across the Atlantic, piloting the largest American bomber of the time — the B-17 Flying Fortress — to England. She was the first woman invited to join the Women's Air Force Service Pilots (WASPs) — and turned down the invitation until the time was right.
On the home front, before, during and after the war, Pinky taught hundreds of young men and women to fly. She and her husband Joe operated a charter service and flight school out of their Tri-City Airport near San Bernardino for 40 years.
Pinky's charter service allowed her to connect with the famous and powerful, and her personality and courage led her further into that world. Perry Mason's creator Erle Stanley Gardner wrote her into his books and television series. She flew former Presidents, infamous "Wise Guys" and the FBI agents chasing them, movie stars, politicians and acclaimed writers all over the southwest and beyond. "Anyone, anywhere, anytime, day or night," was her business model, and "Come Fly With Me" was her motto.